Relations with Tenants (Customers)
Basic Concept
We regard our connections and relationships of trust with all stakeholders as an important form of capital for value creation. We believe it is the Company's mission to create new value for society through the various initiatives that we undertake together with our stakeholders. We will continue to promote these initiatives, and build solid relationships with all of our stakeholders.
Relations with Tenants (Customers)
The Company aims to provide safe and comfortable commercial spaces to support our customers' businesses and achieve mutual growth. Based on the concept of "preventive maintenance," in order to provide safety and comfort to our customers, we implement planned renovations and repairs aimed to prevent major accidents. Furthermore, we have established a system that allows us to accurately grasp and quickly respond to customer need by setting up a twin system by Business Department and Property Management Department.
The value to offer
Our initiatives
Description

Safety

Earthquake countermeasures

Adoption of seismic isolation devices

Our datacenter buildings and new office buildings adopt advanced seismic isolation devices
Comprehensive seismic strengthening measures also applied to existing buildings

Earthquake countermeasures for elevators

Elevators are fully equipped with a system for safe evacuation of passengers at the time of earthquake
Emergency supplies are equipped within elevators in case passengers are trapped

Developing BCP and holding drills

Periodic reviews of BCP and regular BCP drills

Flooding countermeasures

Installation of flood-control panels

Flood-control panels have been installed at the entrances to buildings to prevent flooding

Equipment rooms set on the second floor or higher

Additional flooding countermeasures have been implemented, in addition to flood-control panels

Securing power sources

Receiving power from multiple lines

Datacenter buildings and some office buildings receive power from multiple lines

Installation of emergency-use generators and UPS (uninterruptible power supply) systems

A combination of emergency-use generators and UPS is used to secure the electricity necessary in the building until the power is restored

Comfort

Enhancing tenant services

Twin system by Business Department and Property Management Department

Sales representatives and engineers work in tandem to respond to issues quickly and accurately

Preventive maintenance

Renovations and repairs of facilities are carried out systematically, based on the concept of preventive maintenance

Upgrading amenities

Customer surveys are conducted to implement improvements based on their requests

Improving accessibility

Signs in braille are installed along with remodeling of buildings to be handicapped accessible

Putting up Christmas trees

Christmas trees are put up in our office buildings every December so that our tenants and visitors can enjoy the season
Satisfaction surveys for tenants' employees
As an initiative aimed at improving customer satisfaction, we conducted surveys for employees of tenants of the Company's office buildings. With an understanding of our tenants' direct feedback, needs and level of satisfaction, and having discovered issues and areas for improvement, we will work to utilize this information for better operational management of our buildings.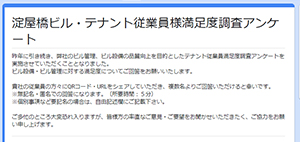 Online questionnaire for tenant employee satisfaction survey