Together with Our Partner Companies
Basic Concept
We regard our connections and relationships of trust with all stakeholders as an important form of capital for value creation. We believe it is the Company's mission to create new value for society through the various initiatives that we undertake together with our stakeholders. We will continue to promote these initiatives, and build solid relationships with all of our stakeholders.
Relations with Partner Companies
In pursuing our business operations, companies that work with us to operate and manage buildings are essential partners to the Company. Therefore, we must build an environment where not only our employees but also our partner companies can work pleasantly and achieve business development by working with us. Accordingly, we will continue to not only pursue fair transactions but also establish strong partnerships with our partners as we go hand in hand.
Partner Company Award
In 2015, the Company has established a Cooperative Partner Company Award to recognize outstanding staff. The award is given twice a year to recognize works provided and contributions made by the employees of partner companies responsible for managing our properties. Recommendations from the Company, along with self-recommendations from partner companies, are both accepted.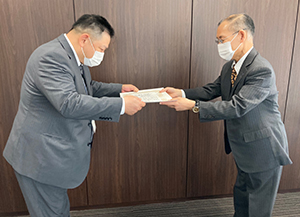 Joint implementation of BCP drills
We hold BCP drills regularly every year. Coordination with the staff of our partner companies is a vital part of our business continuity, and even closer coordination is required in times of emergency. In fiscal 2019, we welcomed participants from our partner companies in our BCP drills, and were able to check our contact systems and emergency response. Due to the COVID-19 pandemic, we conducted online drills for emergency contact in fiscal 2020.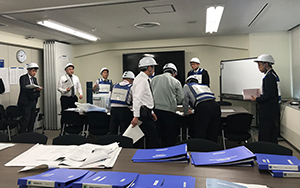 BCP drill in fiscal 2019
Implementation of regular meetings with partner companies
We have established regular meetings between partner companies and employees from our Business Department and Property Management Department, as regular meetings for sharing information.
In addition to schedules and progress of constructions, we report on actual cases of customer complaints, improvement requests, or safety management initiatives conducted at each company. We work to share information and spread expertise, so as to maintain joint operation systems for close communication.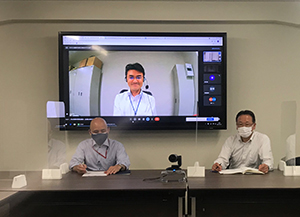 Fair and appropriate business transactions
The Company takes an equal and fair stance for its business transactions with partner companies. Furthermore, Audit Department regularly conducts audits to verify whether transactions are performed in compliance with laws, regulations, and designated in-house processes.
Distribution of disinfectant to partner companies
In spring 2020, when there was a shortage of disinfectant due to the COVID-19 pandemic, the Company distributed disinfectant to partner company employees working in our office buildings and datacenter buildings. As a member of the team engaged in the operation of our buildings, we believe that it is important to maintain a relationship of mutual assistance and cooperation.