Developing urban-type buildings dedicated to datacenter based on 30 years or more of experience in the leasing business
For more than 30 years, we have paid attention to this field and have developed our business for highly convenient urban-type datacenter buildings.
Currently, we hold eight buildings in the Osaka area. As one of the few companies in Japan that lease buildings dedicated to datacenter, our advanced features and comprehensive services for maintenance and management based on our abundant experience are highly recognized by our tenants.
Feature 1
Advanced disaster-prevention features
We adopt the most advanced seismic isolation devices and is built to maintain datacenter functions even when hit by a direct seven-class earthquake on the Japanese seismic intensity scale.
We are also taking precautions against risks for urban flooding, such as those caused by the torrential downpours, which have become common in recent years. Full preventative measures are implemented, such as installment of flood-control panels in building entrances, and positioning of equipment such as incoming power units and machine rooms on the second floor or higher.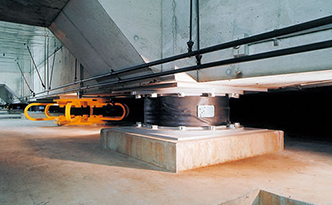 Laminated rubber bearing
Feature 2
High-capacity electrical equipment
Each datacenter building receives high-capacity and high-voltage electricity through multiple lines, in principle. If one is severed, other lines will still provide sufficient power for operations.
In the event of a blackout, the combination of an uninterruptible power supply (UPS) device and a large emergency-use generator will be able to maintain power in the datacenter building until electricity is restored.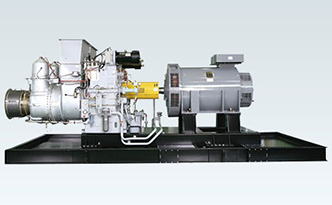 Gas turbine generator
Feature 3
Security measures
The entrances of datacenter buildings are equipped with security gates using contactless smart cards. Security personnel are always on duty and visitors are allowed entrance through face-to-face reception.
Specialist technicians are permanently on call in the central monitoring center of each datacenter building, and building interiors are under surveillance 24 hours a day, 365 days a year.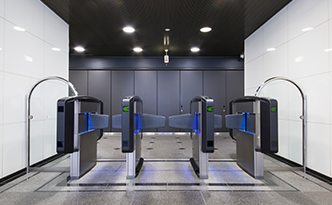 Security gate
Feature 4
Convenient urban-type buildings
Our datacenter buildings are located in the central part of Osaka-shi, which is the crucial node for the western Japan communication network.
This enables fast and high-quality internet connections to be established, and allows engineers to swiftly arrive on-site should an issue occur.
Property List
Keihanshin OBP Bldg.

Address

Chuo-ku, Osaka-shi

Structure

B1/16F

Total Floor

42,132.52m²

Keihanshin Nishishinsaibashi Bldg.

Address

Nishi-ku, Osaka-shi

Structure

B1/10F

Total Floor

18,061m²

Keihanshin Kitahorie Bldg.

Address

Nishi-ku, Osaka-shi

Structure

B1/7F

Total Floor

14,456m²

Keihanshin Shinmachi 1 Bldg.

Address

Nishi-ku, Osaka-shi

Structure

B1/9F

Total Floor

16,162m²

Keihanshin Shinmachi 2 Bldg.

Address

Nishi-ku, Osaka-shi

Structure

B1/7F

Total Floor

14,646m²

Keihanshin Shin - Esaka Bldg.

Address

Suita-shi, Osaka

Structure

B1/7F

Total Floor

11,970m²

Keihanshin Toyosaki Bldg.

Address

Kita-ku, Osaka-shi

Structure

6F

Total Floor

3,365m²

Keihanshin Nakatsu Bldg.

Address

Kita-ku, Osaka-shi

Structure

8F

Total Floor

4,010m²