We take a long-term perspective for our building management, providing business spaces focused on "safety," "comfort," and "environment."
We develop safe and comfortable office buildings equipped with the latest features at premium addresses of business districts in Yodoyabashi and Honmachi areas in Osaka, and the Tokyo metropolitan area.
We engage in the comprehensive business with a long-term perspective, covering from construction to operation, maintenance and management, and renovation; thereby accumulating expertise over the years. Such thorough management of buildings has been highly recognized by our tenants.
Also, the high-quality exteriors are designed to not interfere with townscapes of the region.
Feature 1
Prime locations
We consider location to be extremely important. Midosuji Road, on which four office buildings exist, is Osaka's main road, and the area covering from Yodoyabashi to Honmachi is one of the most prestigious office areas in Osaka. As of the end of March 2022, we also own four office buildings in the Tokyo metropolitan area, and each building stands in a prime location near a station or on a major trunk road.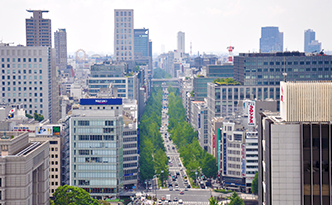 Feature 2
Advanced features
We focus on usability when developing buildings and strive to provide business space in older buildings that is equally comfortable as in new buildings through planned renewals and maintenance.
Also, leveraging our expertise gained over the years in the management of datacenter buildings, we introduced seismic isolation devices and emergency generators, responding to the rising need for BCP measures.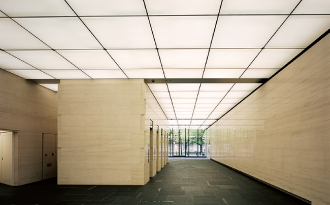 Entrance of Midosuji Building
Feature 3
Environmentally-friendly operations
We develop environmentally-friendly buildings to correspond to ZEB (Zero Energy Buildings) through introduction of various energy-conservation technologies such as automatic dimming systems and BEMS (Building Energy Management System) as well as rooftop and wall greening. These initiatives have been highly regarded, and the Onarimon Building received the Minato-ku Green District-Making Award
Planting at the entrance of Onarimon Building
Property List
Keihanshin Midosuji Bldg.

Address

6-1 Doshomachi 3chome, Chuo-ku, Osaka-shi

Access

2 minutes on foot from "Yodoyabashi Station" Osaka Metro Midosuji Line

Structure

B1/14F

Total Floor

19,872m²

Keihanshin Kawaramachi Bldg.

Address

2-14 Kawaramachi 4-chome, Chuo-ku, Osaka-shi

Access

2 minutes on foot from "Honmachi Station" Osaka Metro Midosuji Line

Structure

B3/9F

Total Floor

16,520m²

Keihanshin Yodoyabashi Bldg.

Address

4-7 Imabashi 4-chome, Chuo-ku, Osaka-shi

Access

2 minutes on foot from "Yodoyabashi Station" Osaka Metro Midosuji Line

Structure

B1/11F

Total Floor

12,136 m²

Keihanshin Azuchimachi Bldg.

Address

4-10 Azuchimachi 3-chome, Chuo-ku, Osaka-shi

Access

1 minute on foot from "Honmachi Station" Osaka Metro Midosuji Line

Structure

B1/7F

Total Floor

3,505m²

Keihanshin Toranomon Bldg.

Address

7-14 Nishishinbashi 1-chome, Minato-ku, Tokyo

Access

2 minutes on foot from " Toranomon Station" Tokyo Metro Ginza Line

Structure

B1/13F

Total Floor

7,137m²

Keihanshin Onarimon Bldg.

Address

16-12 Shinbashi 6-chome, Minato-ku, Tokyo

Access

1 minute on foot from " Onarimon Station" Toei Subway Mita Line

Structure

B1/9F

Total Floor

3,885m²

Keihanshin Fuchu Bldg.

Address

22-5 Sumiyoshicho 5-chome, Fuchu-shi, Tokyo

Access

6 minutes on foot from " Nakagahara Station" Keio Line

Structure

6F

Total Floor

35,907m²

Keihanshin Yoyogi-koen Bldg.

Address

12-10 Tomigaya 1-chome, Shibuya-ku, Tokyo

Access

2 minutes on foot from " Yoyogi-koen Station" Chiyoda Line

Structure

B1/6F

Total Floor

5,079m²