Relations with Local Communities
Basic Concept
We regard our connections and relationships of trust with all stakeholders as an important form of capital for value creation. We believe it is the Company's mission to create new value for society through the various initiatives that we undertake together with our stakeholders. We will continue to promote these initiatives, and build solid relationships with all of our stakeholders.
Relations with Local Communities
Under our Code of Conduct of "We will establish a good relationship with the community and actively engage in social contribution activities as a good citizen", as a real estate company fully grounded in the local community, we are continuously and actively engaged in local contribution activities such as donations, participation in community clean-up activities, and support for local events. We believe such steady contribution activities in local communities help to invigorate the areas, which will also lead to the Company's growth.
Type of Support
Target of Support
Description
Supported Organization (Contact Point)

Clean-ups

Midosuji clean-up activity

Conducted clean-up activities for the roadside of Midosuji once a month

Roadside of Midosuji from Honmachi to Yodoyabashi

Disasters

Disaster relief fund for the Heavy Rain Event of July 2020

Made donations through the Japanese Red Cross Society to support recovery in affected regions

The Japanese Red Cross Society

Culture and Arts

Support for the Kokoro no Gekijo (Theater of Heart) of the Shiki Theatre Company

Supported performances in the Osaka area as opportunities to experience the arts and invited children to musicals free of charge
*Suspended in fiscal 2020 due to the COVID-19 pandemic

Shiki Theatre Company

Donation of sales from vending machines installed in WINS buildings

Donated a certain percentage of the sales from 37 vending machines in support for artistic activities

Arts Support Kansai

Corporate Art Collections

Made art works owned by companies available for public exhibition through donation to initiatives that created opportunities to experience culture and the arts

Kansai Association of Corporate Executives

Revitalization of Local Communities

Donation to the Children's Future Fund

Made donations to the fund created to support children in economic hardship

Osaka Prefecture

Donation to the Kansai COVID-19 Healthcare System Support Fund

Made donations to this fund established in the aim of strengthening and supporting the healthcare system, including in monitoring the progress of the COVID-19 pandemic in Kansai municipalities and accommodating critically ill patients

Kansai Economic Federation (Kankeiren)

Support for Nakanoshima Children's Book Forest

Donated to facilities development to enable local children to experience various forms of arts including culture

Osaka-shi

Supporting the Osaka Classic

Supported the annual music event held in autumn in Osaka-shi
*Suspended in fiscal 2020 due to the COVID-19 pandemic

Osaka Classic Executive Committee

Support for Midosuji Illumination

Donated to the illumination fund to revitalize Midosuji Road

Osaka Prefecture

Donation to the Flowers and Greenery Urban Renewal Fund

Donated to conservation activities for the avenue of gingko trees and decorative flowers along Midosuji Road

Osaka-shi
Yodoyabashi Building Illumination
As part of our local community initiatives, we decorate the camphor trees surrounding the Yodoyabashi Building with lights every year, from November through Christmas. Numerous LED light bulbs paint the wintertime Yodoyabashi Building with a warm light.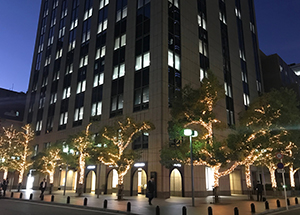 Midosuji Illumination Supporters' Trees
Through the Supporters' Trees Project, participated in by donors to the Midosuji Illumination Fund, message plaques are mounted on the gingko trees along Midosuji Road. Every year, the Company invites employees to propose messages and actively participates in this project that dovetails with the illuminations and helps to invigorate the area.