Dialogue with Our Shareholders and Investors
Basic Concept
We regard our connections and relationships of trust with all stakeholders as an important form of capital for value creation. We believe it is the Company's mission to create new value for society through the various initiatives that we undertake together with our stakeholders. We will continue to promote these initiatives, and build solid relationships with all of our stakeholders.
Dialogue with Our Shareholders and Investors
The Company aims to improve corporate value while heightening management efficiency and transparency by promoting deeper understanding of the Company among shareholders and investors through appropriate information disclosure together with active communication, as well as by flexibly taking in diverse opinions. The Company holds briefing sessions for institutional investors and individual investors, while the President is in charge of giving explanations during overseas IR tours, in principle.
While various on-site IR activities and briefing sessions on-site were suspended or postponed due to the COVID-19 pandemic in fiscal 2020, we made efforts to encourage dialogue, including by holding online briefing sessions and online and telephone meetings. In addition to enhancing the range of information disclosed on our corporate website, we continued to engage in dialogue with domestic and overseas investors. We are fully committed to providing fair and appropriate information disclosure for all our shareholders.
For domestic institutional investors

Briefing sessions for institutional investors

Twice a year

One-on-one meetings

42 times (total)

For foreign investors

Overseas IR Tours

Canceled due to the COVID-19 pandemic

Enhancement of disclosures in English

Ease the information gap between domestic and overseas in our corporate website, publish English translation of disclosure materials

For individual investors

Briefing sessions for individual investors in major cities nationwide

Three times (two of which were held online and the other in Sapporo)

Feedbacks on opinions received through IR activities

Report at Internal Executives and Managers Meeting

Once a week

Activities report at the Board of Directors' Meeting

5 times a year
Online briefing sessions for investors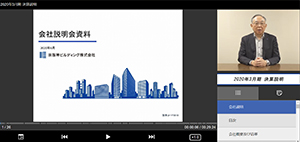 For institutional investors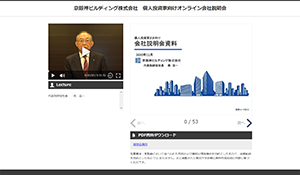 For individual investors
Dividends and Shareholder Returns
The Company's basic policy for shareholder returns continues to focus on stable and continuous dividend payments, and the amount of dividends is determined after consideration of business results, the management environment and future developments. In addition, the Special Benefit Plan for Shareholders will be abolished after a final awarding of benefits to shareholders registered in the Company's Shareholder Registry as of March 31, 2021. The Company's shareholder returns policy prioritizes the improvement of profit returns through dividends and principally aims to increase overall corporate value on a long-term basis while maintaining stable dividends for all our shareholders and considering the balance of internal reserves and other factors.
Under our flexible shareholder returns policy, which takes capital efficiency into account, we will also consider share repurchase or retirement, as appropriate.
Annual dividend per share and dividend payout ratio
Share repurchase and retirement
| | |
| --- | --- |
| FY2018 | Approx. 1.0 billion yen share repurchase and retirement |
| FY2019 | Approx. 1.0 billion yen share repurchase and retirement |
| FY2020–FY2021 | Approx. 3.0 billion yen share repurchase and retirement |