Together with Our Customers
Together with Our Customers
Building Developments with an Awareness of Disaster Prevention
(1) Measures for earthquake disasters
Our datacenter building and new office buildings incorporate advanced seismic isolation devices. These devices help to mitigate building shaking to ensure tenant safety and to prevent damage to server equipment and office fixtures.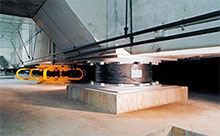 Laminated rubber isolator
(2) Elevator precautions for earthquakes
Elevators in owned buildings are fully equipped with automatic systems that stop the elevator at the nearest floor in the event of an earthquake. They also have earthquake control systems (P and S waves) that allow passengers to evacuate safely in such an event. Additionally, elevators are equipped with emergency equipment in the unlikely event that passengers become trapped.
(3) Developing BCP and holding drills
In order to fulfill our obligations as a real estate owner, we have established BCP, which is reviewed periodically under the guidance of the Risk Management Committee. Based on the BCP, we conduct BCP drill on January 17 of each year on the anniversary of the Great Hanshin Earthquake. We also conduct joint drills with our partner companies such as for communicating information from each building in the event of a disaster.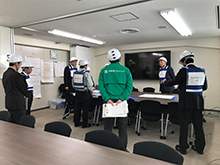 State of BCPdrill
(4) Flooding countermeasures
Flood-control panels can be installed at building entrances and exits as a measure against urban flooding caused by sudden rainstorms, which have become common in recent years. Furthermore, the equipment rental rooms in the datacenter building are set at heights of two stories or higher, taking double precautions against flood damage.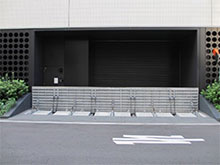 Flood-control panels
(5) Securing power sources
The datacenter building and some office buildings receive power from multiple lines, making these buildings less vulnerable to power outages. Additionally, in the event of a blackout, the combination of emergency power generators and uninterruptible power supply (UPS) systems ensure that the buildings receive power until the situation is resolved.
Enhancing Amenities
(1) Installation of AEDs
We have installed AED devices at the entrances of our office buildings. The AED devices have been placed in the entrance areas so that people in the neighborhood will can use them when in need. We also carry out life-saving training, providing employees with the skills to conduct proper CPR activities.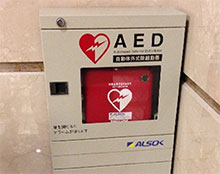 AED device located in an entrance area
(2) Improving accessibility
We have installed braille guide plates in building entrances and renovated washrooms and elevators to be more accessible, creating buildings that everyone can use with safety.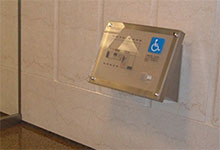 Braille guide plate
High-quality Building Maintenance
The Company has sales representatives and engineers cooperate for building maintenance, which makes it possible to incorporate customer requests as quickly as possible. Additionally, based on the concept of preventive maintenance, we prevent major accidents before they occur by systematically conducting facility repairs and renewals.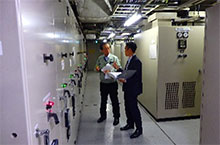 Meeting between representatives of the Business Department and the Property Management Department