Consideration for the Environment
Consideration for the Environment
Greenery and Clean-up Initiatives
Greening activities for building rooftops and walls
The Company actively conducts rooftop and wall greening activities for newly constructed buildings. This is done to mitigate the heat island effect in metropolitan areas and to offer soothing and therapeutic effects to tenants and citizens.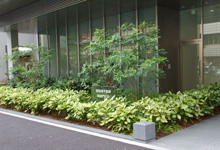 Keihanshin Onarimon Building entrance greenery
Energy-conservation Initiatives
(1) Zoning air-conditioning
Our office building air-conditioning incorporates zoning air-conditioning, which is a system that divides floors into multiple zones and adjusts the temperature for each zone. This aims to realize effective energy use, with detailed and appropriate air-conditioning for each zone.
(2) Light-adjusting system
This automatic light-adjusting system works to control electricity use through sensors that capture the brightness of natural light from windows to control lighting fixtures.
(3) Shifting to energy-saving equipment
We are implementing a series of facility upgrades to energy-saving models for lighting and air-conditioning devices at the timing of facility renewals or tenant replacement. In fiscal 2018, we introduced LED lightings mainly at office buildings, and upgraded power substations and air-conditioning facilities at datacenter buildings. In fiscal 2019, we plan to upgrade facilities at several buildings.
(4) Incorporating the airflow window method
We will incorporate the airflow window method into buildings currently being planned. This method allows indoor air to flow between double glazed windows installed with blinds for the external wall, mitigating the heat load from outside the window.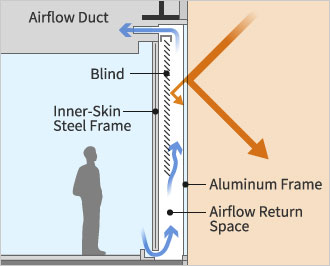 (5) Incorporating BEMS
This plan aims for energy conservation through efficient equipment operations and management, by applying the building energy management and operation system BEMS (Building Energy Management System) for existing buildings for which upgrading of the heating system is being considered. Going forward, this plan is scheduled to be incorporated into other buildings at a similar timing.
Prolonging Building Life
The Company also works to prolong the lives of buildings. We use external walls that focus on aesthetics from the planning stage and implement repairs and renewals based on preventive maintenance to prevent major accidents before they occur. These activities are conducted with care towards prolonging the lives of buildings and facilities.