Mid-Term Business Plan
Target Period
7years from fiscal 2019 to fiscal 2025
"Challenges from here: Into the new stage of growth."
Basic Policy
We aim to achieve further growth and expansion of our existing four distinct businesses by materializing various measures to strengthen our revenue foundation as set forth in the previous Mid-Term Business Plan. We will also access changes in the investment environment accurately for the near term, and aim for long-lasting and sustainable growth and expansion of our business size through growth strategies of the new stage after the implementation of measures set forth in the previous Business Plan, while we continue to seek the establishment of new businesses in addition to the existing.
Corporate Vision
While maintaining our uniqueness, we aim to provide valuable business space responding to the needs of the times and "expand assets that will be carried over to the next generation."
Business Plan
Net Sales

Operating profit

 
Ordinary profit

Ordinary income after tax before depreciation
Results


(2022/3)

Final targets


(2026/3)

Total assets

149.9
billion yen

195.0
billion yen

Net interest-bearing debt

54.9
billion yen

92.0
billion yen

Net interest-bearing debt/EBITDA

6.2
times

7.3
times

Shareholders' equity

70.3
billion yen

82.0
billion yen

Capital adequacy ratio

46.9%

42.0%
Investment plan
Investment area
Investment amount (cumulative)
Real estate investment

Part of the construction costs of the Toranomon Building and OBP Building/Acquisition of profitable properties

92.0
billion yen

Repair and renovation investment

Large-scale repair of owned properties

8.0
billion yen

Total

100.0
billion yen
Priority measures
1. New investment strategies
Office buildings

Promote the construction of the Toranomon Building and secure full occupancy at an early stage
Promote investment in the central Tokyo area by enhancing brand strength in the Tokyo area
Specialize in medium-sized buildings
Participate in redevelopment projects through partnerships with other companies

Datacenter buildings

Promote the construction of the OBP Building and attract tenants at an early stage
Acquire lands for developments and construct a new urban-type datacenter building to meet strong demand in the Osaka area
Consider suburban datacenter business in the Tokyo and Osaka areas, leveraging our high public profile in the datacenter industry
Consider investment in datacenter buildings through business alliances

Commercial buildings

Acquire urban-type commercial buildings located near commercial centers or terminal stations in the Tokyo metropolitan area and regional core cities

Logistic warehouses

Acquire build-to-suit warehouses (for specific companies) with facilities and functionalities that meet customer needs
Acquire large multi-tenant warehouses at convenient locations
2. Reviewing existing facilities
Steadily reconstruct or sell properties relatively old or no longer profitable
Improve profitability by attracting tenants from new areas of business through effective use of building characteristics
| Time of withdrawal | sale |
| --- | --- |
| April 2018 | Asahikawa Shopping Facility |
| July 2018 | Sakasegawa Building |
| April 2020 | Toyahama Warehouse |
3. Pursuing profitability of owned assets
Pursue high operation rates with prime building facilities
Further reinforce tenant relations with a thorough customer-oriented approach
Develop new customers by strengthening proposal capabilities
4. Enhancing risk management
Diversify the regional portfolio of the owned properties
Systematically renew buildings incorporating BCP measures, etc.
5. New development for the future
Consider diversifying and expanding business through business alliances, etc.
Consider diversifying investment methods
Consider real estate investment overseas focused on developed countries such as the United States
6. Maintaining a solid financial foundation
Strive for stable financing at low interest rate by paying attention to the balance between direct financing and indirect financing
Maintain the soundness of the financial balance while adhering to the capital adequacy ratio of at least 30% and net interest-bearing debt of ten times EBITDA (operating profit before depreciation) or less
Pursue a rating upgrade while maintaining a good credit rating
Maintain ROA (operating profit/total assets) at 4% level
■Change of financial indicators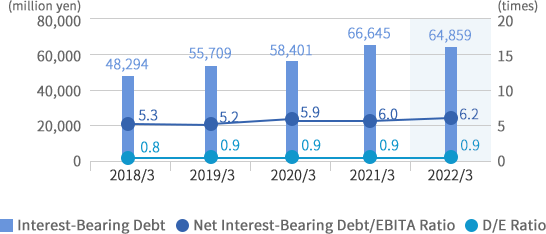 EBITDA:Operationg Profit + Depreciation & Amortization
D/E Ratio:Interest-Bearing Debt / Equity
7. ESG-conscious business management
E (Environmental)

Prolong building life through preventive maintenance
Promote greening and energy-saving initiatives
Consider obtaining various certifications

S (Social)

Contribute to the local community through BCP, the maintenance of disaster preparedness equipment, etc.
Initiate regional revitalization through event sponsorship and donations
Improve productivity through workstyle reform

G (Governance)

Reinforce management integrity and transparency through reviewing the board structure, further diversifying executive members, etc.
Dividends Policy
The dividend payout ratio will be 35 to 40%, up 5 to 10 percentage points from the current figure, under the policy focusing mainly on stable and continuous dividend payments. In addition, returns to shareholders will be studied with a full awareness of capital efficiency, comprehensively taking into account the economic situation and the Company's stock price.
Payout ratio